Classification

Devanagari
no_data
Sanskrit Transliteration
no_data
Affiliation
no_data
Abode
no_data
Mantra

Goddess Durga's Gayatri Mantra - 27 repetitions

LYRICS:
ॐ गिरिजायै विद्महे, शिव प्रियायै धीमहि, तन्नो दुर्गा प्रचोदयात् ।।

Om Girijayai Vidmahe, Shiva Priyayai Dhimahi, Tanno Durga Prachodayat


♦ VIDEO : Durga Gayatri Mantra in English ♦


♦ VIDEO : Durga Gayatri Mantra in Sanskrit ♦

Weapon

We are all familiar with the image of Maa Durga, who is the most powerful manifestation of Maa Shakti. She is the Mother Goddess who slays demons and liberates the earth and heaven when all other fail. She is the fiery energy of creation and life, and the power of Lord Shiva. The popular image of Durga has ten arms, each carrying a divine weapon. Each of the ten items that she holds in her hands have some special significance.

The Weapons Of Maa Durga

1. Trishul – The trident of Lord Shiva is the main weapon of Maa Duga which she uses to slay the demons. It symbolizes the three gunas – Sattva, Rajas and Tamas. It is considered to be one of the most powerful weapons in Hinduism.

2. Sudarshan Chakra – This is another important weapon that Durga holds in one of her hands. It signifies the power of the Goddess over the entire Universe. It was gifted to her by Lord Vishnu.

3. Conch shell or Shankha – This conch shell was gifted to Maa Durga by Lord Varuna. It is the symbol of the sacred sound of 'Om', which is the most primitive sound in the Universe. It resembles Maa Shakti's role as the energy behind creation.

4. Bow and Arrow- The bow and arrows held by the Goddess symbolize both potential (bow) and kinetic (arrow) energies. It points to the fact that Maa Durga is in control of all energies in the Universe.

5. Thunderbolt- The thunderbolt gifted by Lord Indra is another item Maa Durga holds in her hands. Thunder is a symbol of rage and anger and these qualities are a part of Maa Durga, who destroys evil ruthlessly.

6. Sword – Maa Durga also carries a sword in her hand. The sharp blade of this sword signifies divine knowledge that shines through all the darkness.

7. Half-bloomed lotus – The half-bloomed lotus is a sign of humility and success. Its underlying meaning is that, although success and prosperity are achievable goals, one shall not take them for granted.

Consort
no_data
Children
no_data
Mount
no_data
---
दुर्गा ध्यान मंत्र (Durga Dhyan Mantra) - with Sanskrit lyrics
Prayer to Goddess Durga
LYRICS:
देवि प्रपन्नार्तिहरे प्रसीद प्रसीद मातर्जगतोऽखिलस्य ।
प्रसीद विश्वेश्वरि पाहि विश्वं त्वमीश्वरी देवि चराचरस्य ॥
devi prapannaartihare praseeda
praseeda maatarjagato-akhilasya |
praseeda vishveshvari paahi vishvam
tvameeshvaree devi charaacharasya ||
~~~~~~~~~~~~~~~~~~~
त्वं वैष्णवीशक्तिरनन्तवीर्या विश्वस्य बीजं परमासि माया ।
सम्मोहितं देवि समस्तमेतत त्वंवै प्रसन्ना भुवि मुक्तिहेतुः ||
tvam vaishnnaveeshaktir-ananta-veeryaa
vishvasya beejam paramaasi maayaa |
sammohitam devi samastametata
tvamvai prasannaa bhuvi muktihetuh ||
♦ VIDEO : Durga Dhyan Mantra in Sanskrit ♦

---
दुर्गा मंगलाचरण (Durga Mangalacharan Mantras) - with Sanskrit lyrics
LYRICS:
सिंहस्था शशिशेखरा मरकतप्रख्यैश्चतुर्भिर्भुजै:
शंखं चक्रधनु:शरांश्च दधती नेत्रैस्त्रिभि: शोभिता ॥
आमुक्तांगदहारकंकणरणत्कांचीरणन्नूपुरा
दुर्गा दुर्गति हारिणी भवतु नो रत्नोल्लसत्कुण्डला ॥१॥
घण्टाशूलहलानि शङ्खमुसले चक्रं धनुः सायकं
हस्ताब्जैर्दधतीं घनान्तविलसच्छीतांशुतुल्यप्रभाम् ॥
गौरीदेहसमुद्भवां त्रिजगतामाधारभूतां महा-
पूर्वामत्रसरस्वतीमनुभजे शुम्भादिदैत्यार्दिनीम् ॥२॥
कल्हारोत्पलनागकेसरसरोजाख्यावलीमालती
मल्लीकैरवकेतकादिकुसुमै रक्ताश्वमारादिभिः ॥
पुष्पैर्माल्यभरेण वै सुरभिणा नानारसस्त्रोतसा
ताम्राम्भोजनिवासिनिं भगवतीं श्रीचण्डिकां पूजये ॥३॥
विद्द्युद्दामसमप्रभां मृगपति स्कन्धस्थितां भीषणां
कन्याभिःकरवाल खेट विलसद्धस्ताभिरा सेविताम् ॥
हस्तैश्चक्रगदासि खेट विशिखांशचापं गुणं तर्जनीं
विभ्राणामनलात्मिकां शशिधरां दुर्गां त्रिनेत्रां भजे ॥४॥
♦ VIDEO : Durga Mangalacharan Mantras in Sanskrit ♦

---
Durga

Goddess of Victory of Good over Evil

Devanagari
दुर्गा
Sanskrit Transliteration
Durga
Affiliation

Devi, Mother Goddess, original manifested form of Mother Adi-Parashakti/Parvati, Goddess Shakti, manifestation of Mahashakti

Consort Lord Shiva =
Abode
Forest of Madamba Kadamba
Planet
Mars
Mantra
Om Durgaye Namaha / Om Aim Hreem Kleem Durga Devi Namaha
Weapon
trident, discus,
Scimitar, lasso,
Conch shell, Mace, Bow and arrow, spear, sword (longsword), shield, bell, pink lotus flower, battle-axe, thunderbolt, elephant goad, snake, rod, spade, vajra, goblet, hammer weapon, iron weapon, weapon made out of thorns, javelin, dagger
Consort
Shiva
Mount
lion or tiger
Durga (Hindustani pronunciation: [ˈd̪uːrɡaː]; Sanskrit: दुर्गा), meaning "the inaccessible" or "the invincible", is the most popular incarnation of Devi and one of the main forms of the Goddess Shakti in the Hindu pantheon. Durga is the original manifested form of Mother Adi-Parashakti. The Devi Gita, also known as Parvati Gita, declares her to be the greatest Goddess. Thus, she is considered the supreme goddess and primary deity in Shaktism, occupying a place similar to Lord Krishna in Vaishnavism. According to Skanda Purana, the goddess Parvati accounted the name "Durga" after she killed the demon Durgamaasura. Goddess Parvati is considered to be the complete incarnation of Adi Parashakti or Goddess Durga, with all other goddesses being her incarnations or manifestations. Adi Parashakti or Mahadevi, the supreme power, is called Durga Shakti as per Devi-Mahatmya. Adi Parashakti or Devi Durga is a Hindu concept of the Ultimate Shakti or Mahashakti, the ultimate power inherent in all Creation. This is especially prevalent in the Shakta denomination within Hinduism, which worships the Goddess Devi in all her manifestations.
Contents
Origins and development
Ramprasad Chanda writes the following about the development of Durga from primitive goddess to her current form:
"...it is possible to distinguish two different strata – one primitive and the other advanced. The primitive form of Durga is the result of syncretism of a mountain-goddess worshiped by the dwellers of the Himalaya and the Vindhyas, a goddess worshiped by the nomadic Abhira shepherd, the vegetation spirit conceived as a female, and a war-goddess. As her votaries advanced in civilisation the primitive war-goddess was transformed into the personification of the all-destroying time (Kali), the vegetation spirit into the primordial energy (Adya Sakti) and the saviouress from "samsara" (cycle of rebirths) , and gradually brought into line with the Brahmanic mythology and philosophy."
Worship
Main article: Durga Puja
Durga Dhyana Mantra

A 108 seconds sample of Durga Puja Mantra recited in Sanskrit.

---

Problems playing this file? See media help.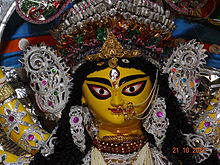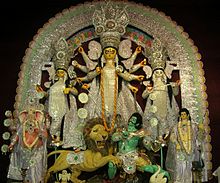 The four-day-long (Saptami to Dashami) Durga Puja is the biggest annual festival in Bengal, Assam, Odisha, Bihar, Jharkhand and Nepal, where it is known as Dashain. It is celebrated likewise with much fervour in various parts of India, especially the Himalayan region, but is celebrated in various forms throughout the Hindu universe.
The day of Durga's victory is celebrated as Vijayadashami (Bihar, Bengali), Dashain (Nepali) or Dussehra (Hindi) – these words literally mean "the Victory Tenth" (day).
In Kashmir she is worshipped as shaarika (the main temple is in Hari Parbat in Srinagar).
The actual period of the worship however may be on the preceding nine days (Navaratri) followed by the last day called Vijayadashami in North India or five days in Bengal (from the sixth to tenth day of the waxing-moon fortnight). Nine aspects of Durga known as Navadurga are meditated upon, one by one during the nine-day festival by devout Shakti worshippers. Durga Puja also includes the worship of Shiva, who is Durga's consort (Durga is an aspect of Goddess Parvati), in addition to Lakshmi, Saraswati with Ganesha and Kartikeya, who are considered to be Durga's children. Worship of mother nature is done, through nine types of plant (called "Kala Bou"), including a plantain (banana) tree, which represent nine divine forms of Goddess Durga. In South India especially, Andhra Pradesh Dussera Navaratri is also celebrated and the goddess is dressed each day as a different devi – Saraswati, Parvati, Lakshmi etc. – for the nine days.
In North India, the tenth day, is celebrated as Dussehra, the day Rama emerged victorious in his battle against the demon, Ravana – gigantic straw effigies of Ravana are burnt in designated open spaces (e.g. Delhi's Ram Lila grounds), watched by thousands of families and little children.
In Mysore (which originated from Mahishasooru) in Karnataka, she is worshipped as Chamundeshwari, the patron goddess of the city during Dussehra (Dasara).
In Gujarat it is celebrated as the last day of Navaratri, during which the Garba dance is performed to celebrate the victory of Mahishasura-mardini, Durga.
The Goddess Durga is worshipped in her peaceful form as Maha Gauri, The Fair Lady, Shree Shantadurga also known as Santeri, is the patron Goddess of Goa. She is worshipped by all Goan Hindus.
In Maharashtra, Tulja Bhavani and Ambabai are worshipped as Mahishasur Mardini, who is the patron goddess of the land. Bhavani is known as Tulaja, Amba, Renuka, Yamai Saptshrungi and Jogai in different places of Maharashtra. She is the inspirational goddess of Raja Shivaji. As per legends, Bhavani appeared after Shivaji prayed to her and blessed him to be able to make Hindustan or the then India (ruled by the Mughals) independent – the kingdom he established eventually became the Hindu Pad Padshahi (sometimes also called the Maratha Empire), which comprised all the land ruled by the Mughals and brought India back under Hindu sovereignty.
In Bangladesh also, the four-day long Sharadiya Durga Puja (Bengali: শারদীয়া দুর্গা পুজো, 'autumnal Durga worship') is the biggest religious festivals for the Hindus and celebrated across the country with Vijayadashami being a national holiday.
The prominence of Durga Puja increased gradually during the British Raj in Bengal. After the Hindu reformists identified Durga with India, she became an icon for the Indian independence movement.
NAVADURGA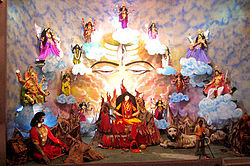 Navadurga (Devanagari:नवदुर्गा), which literally means nine Goddess Durgas, constitute, according to Hindu mythology, the manifestation of Durga in nine different forms. These nine forms of manifestation are Śhailaputrī, Brahmachāriṇī, Chandraghaṇṭā, Kuṣhmāṇḍā, Skandamātā, Kārtyāyanī, Kālarātrī, Mahāgaurī and Siddhidātrī; together worshipped during the Navratri (Nine Divine Nights) celebration in Autumn each year.
Forms of manifestation
Durga, the Mother Goddess of the Hindus and a form of Devi and Shakti is Adi Parashakti and the Navadurga or Nine Durgas. The Navadurga are the different forms of Devi Durga.
Meditative mantra
Each one of the Navadurga is known by a particular name and the deity has a particular dhyana-mantra, a mantra for meditation, a free English version of which is mentioned below:
May the illustrious Shailputri Durga whom I salute and whose head is adorned by a halfmoon, who rides nandi, a bull and carries a spear fulfill the desires of my heart. She is known as 1st phase of Durga when she took birth as the daughter of Great Himalayas.
May the supreme Brahmachari Durga, who holds rosary and kamandalu in her lotus hands and whose nature is to attain Sachchidanandamaya Brahmaswarupa the Existence-Knowledge-Bliss absolute, be propitious on me.
May that Durga Devi, who rides on Tiger, who is endowed with intense anger and violence and is renowned by the name of Maa Chandraghanta, bestow her grace on me. Chandraghanta Maa is known and named Chandraghanta or Chandra-Khanda as Maa Durga wears the semi-circular moon (Chandra) which appears like a bell (Ghanta) on her forehead.
May Kushmanda Ma Durga who holds two pitchers full of blood in her lotus hands and the universe is created, sustained and drawn within Devi's ownself in a wink be propitious for me. In this form Mother Durga creates solar system by liberating her power to Lord Sun.
May the renowned Durga Devi Skandamata who is eternally seated on a throne and whose hands are adorned with lotuses, be ever propitious to me. As Mother of Skanda or Kartikeya, Maa Parvati or Maa Durga is known as Skandmata.
May the ever watchful Durga Devi Kartyayani, who holds shining Chandrahasa (Sword) in Devi's hand and rides a magnificent lion and destroys the demons, bestow welfare on me.
May she Bhayankari Maa Durga who is with long lips, riding an ass, shining in various hues looks formidable because of the halo of Devi's lustre and is adorned with multi coloured ornaments remove my darkness of ignorance.
May the Mahagauri Ma Durga who rides a white Vrishaba the bull and who wears spotless white clothes and remains ever pure and also provides ever lasting bliss to Mahadeva Lord Shiva bestow all auspiciousness.
May the ever victorious Siddhidayini Ma Durga, who is always worshipped by the hordes of siddha, gandharva, yaksha, asura, and Deva, bestow success at my every venture. She is one who was worshiped by Lord Shiva to become in the form of Goddess Ardhnarishwara, then Goddess Shakti Appeared from the left side of Lord Shiva
References
Western references
Some early Western accounts refer to a deity known as Deumus, Demus or Deumo. Western (Portuguese) sailors first came face to face with the murti of Deumus at Calicut on the Malabar Coast and they concluded it to be the deity of Calicut. Deumus is sometimes interpreted as an aspect of Durga in Hindu mythology and sometimes as deva.
It is described that the ruler of Calicut (Zamorin) had a murti of Deumus in his temple inside his royal palace. The temple was two paces wide in each of the four sides and three paces high, with a wooden door covered with gods carved in relief. At the centre of the temple, there was a metal idol of Deumus placed in a seat, which was also made of metal.
Western accounts also describe the ruler of Calicut worshiping an ultimate god called Tamerani ("Tamburan"). The accounts also describes a misunderstood form of the "hook-swinging" ritual once commonly performed as part of some popular Hindu religious festivals.
Notable temples of Durga
In India
Haryana
Karnataka
Maharashtra
Odisha
Tamil Nadu
West Bengal
Outside India
See also
References
Data Arrangement, Technical Arrangement & Graphics
♦ Guruji Murugan Chillayah - Silambam Asia
References ( Durga )
♦ Durga Dhyan Mantra - Singer: Jitender Singh
♦ Durga Mangalacharan Mantras - Track: 01 Mangalacharan; Artist: Gundecha Brothers; Music: Pt. Bhajan Sopori; Album: Durga Kavach