Natural Hair Growth
Last Updated by:

Guruji on

21 January 2019 (Mon) 04:30 AM (GMT+8)

English pronunciation :
not_available
/
Sanskrit संस्कृतम् :
not_available
/
Tamil தமிழ் :
not_available
Bahasa Melayu :
not_available
/
Malayalam :
not_available
/
Telugu :
not_available
/
Français :
not_available
Natural Hair Growth Treatment
Natural Hair Growth Treatment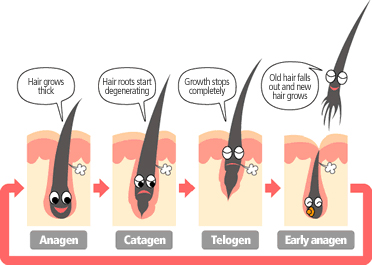 It is almost impossible to increase the natural hair growth rate, however, if you take good care of your hair, your hair will remain strong and healthy and that way you can reduce hair fall, hair graying etc. Healthy hair grows faster than weak hair. By making some simple and easy adjustments in your life style, you can maintain not only strong, healthy and shining hair, but also a healthy body and mind.
Natural Hair Growth Treatment
Given below are some home remedies and natural treatment to speed up hair growth. Along with these treatments, following a healthy lifestyle will help in improving hair growth.
■ Massaging the scalp with oil or a piece of lemon in a circular fashion adds to vitality and hair growth.
■ Applying beaten eggs on to the scalp also assists in speeding up hair growth.
■ Application of paste made out of mashed fenugreek seeds is also a healthy option.
■ Boiled mixture of thyme, rosemary and cloves may be used as a pack to contribute to hair growth. Washing hair with coconut milk proves to be a beneficial option.
■ An amalgam of rosemary, lemon, olive and egg may be applied to the scalp followed by washing for aiding hair growth.
■ In fact washing hair in beer is also good from the point of view of its health.
■ Highly enriched Aloe vera can be massaged on to the scalp followed by washing to sustain good hair.
Lifestyle tips for healthy hair
Following a healthy lifestyle is essential for your physical as well as mental health. A healthy hair reflects the physical and mental health of a person. Given below are few lifestyle tips that will improve hair growth.
■ Exercise improves blood circulation and circulation stimulates hair follicles. Therefore regular exercise improves the health of your hair by stimulating the follicles.
■ A diet rich in protein will promote healthy hair growth. There for protein rich food such as soy (tofu), yogurt, eggs, fish and beans etc. should be included in you diet.
■ Stress is found to be another reason behind hair fall and slow hair growth. Therefore try to lead a stress free life if you really care for your hair. Follow meditation and other relaxation techniques to lead a stress free life.
■ You should treat your hair gently and if you have the habit of using hair care products, make sure you buy only quality hair products. Try not to over-process, over-style or over-brush your hair.
NOTE : The intention of this article is only for information. It is not a substitute to any other standard medical diagnosis. For proper treatment, always consult a qualified Ayurvedic physician.
---
References
Information of sources
xxxxxxxxxxxx
xxxxxxxxxxxx
xxxxxxxxxxxx
xxxxxxxxxxxx
xxxxxxxxxxxx
xxxxxxxxxxxx
xxxxxxxxxxxx
xxxxxxxxxxxx
xxxxxxxxxxxx
xxxxxxxxxxxx
xxxxxxxxxxxx
xxxxxxxxxxxx
xxxxxxxxxxxx
xxxxxxxxxxxx
xxxxxxxxxxxx
xxxxxxxxxxxx
xxxxxxxxxxxx
xxxxxxxxxxxx
xxxxxxxxxxxx
xxxxxxxxxxxx
xxxxxxxxxxxx
xxxxxxxxxxxx
xxxxxxxxxxxx
xxxxxxxxxxxx
xxxxxxxxxxxx
xxxxxxxxxxxx
xxxxxxxxxxxx
xxxxxxxxxxxx
xxxxxxxxxxxx
xxxxxxxxxxxx
xxxxxxxxxxxx
xxxxxxxxxxxx
xxxxxxxxxxxx
xxxxxxxxxxxx
xxxxxxxxxxxx
xxxxxxxxxxxx
xxxxxxxxxxxx
xxxxxxxxxxxx
xxxxxxxxxxxx
xxxxxxxxxxxx