Sore Throat
Last Updated by:

Guruji on

21 January 2019 (Mon) 04:30 AM (GMT+8)

English pronunciation :
not_available
/
Sanskrit संस्कृतम् :
not_available
/
Tamil தமிழ் :
not_available
Bahasa Melayu :
not_available
/
Malayalam :
not_available
/
Telugu :
not_available
/
Français :
not_available
Sore Throat Treatment
Sore Throat: • Sore throat is a viral infection which usually accompanies: o Cold o Flu o Sinus o Measles o Diphtheria Symptoms to look for: • Pain while swallowing • Irritation in the throat • Fever or chills Natural home remedy using lemon juice, black pepper powder and salt: 1. Take 1 tbsp lemon juice 2. Add ½ tsp black pepper powder 3. Add ½ tsp salt 4. Mix well 5. Heat the mixture till it turns lukewarm 6. Consume once everyday Natural home remedy using black pepper powder, salt and cinnamon powder: 1. Take 1 glass hot water 2. Add ½ tsp black pepper powder 3. Add 1 tsp salt 4. Add ½ tsp cinnamon powder 5. Allow it to rest till it turns lukewarm 6. Gargle with this mixture 2 times a day
Effective Sore Throat Home Remedies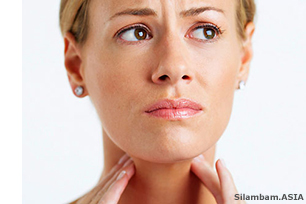 Sore throat is one of the symptoms manifesting as a result of throat infected by strepto coccus virus. It may also be the result of viral infection of 'flu' or that of inflammation caused in pharynx and larynx. Even drainage of sinus may lead to sore throat. Sore throat may be accompanied by fever, running nose and sometimes a blocked nose.
Amongst the natural home remedies for sore throat, there are many which are similar to the ones suggested for strep throat; but a few which are different are outlined below.
Home Remedies for Sore Throat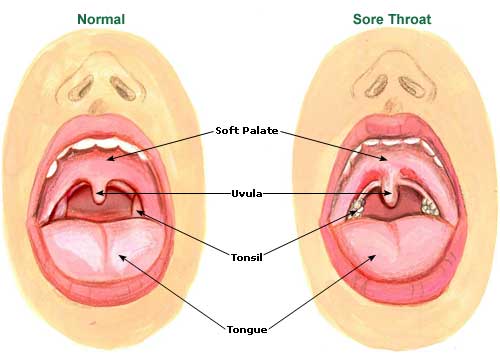 ■ Analgesic sprays are effective in alleviating the painfulness which occurs as one of the most common symptoms in sore throat. But the relief is temporary in nature.
■ Nasal sprays to counteract a blocked nose can prove to be an effective option.
■ A warm concoction of lemon juice honey and luke warm water may be drunk regularly to counteract the effects of sore throat. It helps significantly in providing a soothing sensation. Moreover lemon juice with its high Vitamin C content helps to counter the conditions of cold and flu.
■ Tea with grated ginger may also prove to be soothingly nourishing and refreshing.
■ Besides gurgling in salted water, gurgling in water enriched by spoonful of cider vinegar may also be resorted to as a natural homemade remedy.
■ Myrrh with its antiseptic and anti inflammatory qualities serves as an excellent natural option in doing away with congestion occurring as a result of sore throat.
■ Another commonly available herb in horseradish helps counteract sore throat and fever that may occur along with it.
■ Three to four drops of garlic added to half or one fourth cup of water may be drunk once to counteract the problem of swallowing in sore throat.
■ Coughing accompanying sore throat may be alleviated by boiling two to three cloves in water. The resulting warm mixture may be used for gurgling to ease coughing and associated discomforts.
■ Homemade syrup of honey and onion is another effective option to combat coughing and painful conditions. Slices of white onion may be covered with honey and kept overnight. Taking one table spoon of the accumulated syrup at least thrice a day after due straining serves to ease pain and cough. Onion and honey with its immune enhancing property helps to control the associated symptoms.
NOTE : The intention of this article is only for information. It is not a substitute to any other standard medical diagnosis. For proper treatment, always consult a qualified Ayurvedic physician.
---
References
Information of sources
xxxxxxxxxxxx
xxxxxxxxxxxx
xxxxxxxxxxxx
xxxxxxxxxxxx
xxxxxxxxxxxx
xxxxxxxxxxxx
xxxxxxxxxxxx
xxxxxxxxxxxx
xxxxxxxxxxxx
xxxxxxxxxxxx
xxxxxxxxxxxx
xxxxxxxxxxxx
xxxxxxxxxxxx
xxxxxxxxxxxx
xxxxxxxxxxxx
xxxxxxxxxxxx
xxxxxxxxxxxx
xxxxxxxxxxxx
xxxxxxxxxxxx
xxxxxxxxxxxx
xxxxxxxxxxxx
xxxxxxxxxxxx
xxxxxxxxxxxx
xxxxxxxxxxxx
xxxxxxxxxxxx
xxxxxxxxxxxx
xxxxxxxxxxxx
xxxxxxxxxxxx
xxxxxxxxxxxx
xxxxxxxxxxxx
xxxxxxxxxxxx
xxxxxxxxxxxx
xxxxxxxxxxxx
xxxxxxxxxxxx
xxxxxxxxxxxx
xxxxxxxxxxxx
xxxxxxxxxxxx
xxxxxxxxxxxx
xxxxxxxxxxxx
xxxxxxxxxxxx