Weight Loss
Last Updated by:

Guruji on

21 January 2019 (Mon) 04:30 AM (GMT+8)

English pronunciation :
not_available
/
Sanskrit संस्कृतम् :
not_available
/
Tamil தமிழ் :
not_available
Bahasa Melayu :
Susut Berat Badan
/
Malayalam :
not_available
/
Telugu :
not_available
/
Français :
not_available
Weight Loss Treatment
Weight Loss: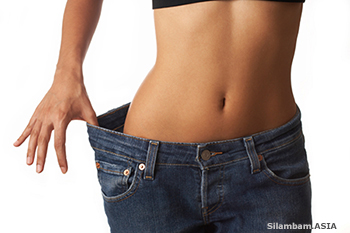 • Being overweight is harmful to one's self esteem • It is also a health concern since it leads to many serious ailments including: o Diabetes o High blood pressure
Causes:
• Some people overeat when they are:
o Depressed
o Bored
o Angry
o In a relaxed environment
• Incorrect lifestyle
• Improper diet
• Lack of exercise
• Hypothyroidism
Natural home remedy using black pepper powder, lemon juice and honey:
1. Take 1 glass lukewarm water
2. Add 1 tsp black pepper powder
3. Add 4 tsp lemon juice
4. Add 1 tsp honey
5. Mix well
6. Drink every day
Natural home remedy using lemon juice and honey:
1. Take 1 glass hot water
2. Add 4 tsp lemon juice
3. Add 1 tbsp honey
4. Drink every morning on empty stomach
Tips:
• Exercise regularly
• Cabbage is very effective in burning body fat. Consume 1 bowl of cabbage everyday

Áyurveédic Secrets for Weight Loss
By Sunita Mohan, HD, RNCP Homeopathic Doctor and Áyurveédic Nutritionist
Posted on : 5 / 10 / 2012
The Pitta Dosha
Pitta individuals are typically of medium build. Physically, they have good muscle tone; have a tendency to always feel warm; have premature graying hair or balding; have reddish complexions; enjoy high energy levels; and have really strong digestion – they can eat almost anything. Mentally, they are extremely intelligent, focused, ambitious people. Emotionally, they are passionate about life, have a tendency to be perfectionists, and can become easily irritated.
The Vata Dosha
The third dosha, Vata, tends to be the most slender of the three body types. Vata people can actually find it difficult to gain weight. Physically, Vata individuals are thin with prominent bony structures; tend to be cold all the time; have dry skin and hair; and have little muscle tone. Mentally, they learn fast and forget fast, enjoy change, and are very creative. Emotionally, Vata types are excitable, enthusiastic, but can become easily anxious.
Knowing your constitution will help you select the tastes that work best for you.
To keep Pitta balanced, choose more sweet, bitter and astringent foods; spices like turmeric and peppercorn can cool Pitta.
To keep Vata balanced, choose more salty, sour or sweet foods; cumin and ginger can calm Vata.
To keep Kapha in balance, eat more bitter, pungent or astringent foods; turmeric, cumin and ginger can stimulate Kapha.
Weight Loss Therapy in Siddha Medical System
Last Updated by Dr. Arun Baby and re-arranged by

11 December 2012 (Tue) 10:26 PM (GMT+8)

on

Normal body mass index
| height | Women | Men |
| --- | --- | --- |
| 5'2" | 53-59 kg | 59-63 kg |
| 5'3" | 54-61 kg | 60-64 kg |
| 5'4" | 56-62 kg | 61-65 kg |
| 5'5" | 57-63 kg | 62-67 kg |
| 5'6" | 58-65 kg | 63-68 kg |
| 5'8" | 61-68 kg | 65-71 kg |
| 6'0" | 67-73 kg | 71-77 kg |
SIMPLE STEPS TO BURN CALORIES
Eat plenty of vegetables
Drink plenty of water
Eat plenty of protein ( pulses, dry nuts etc )
Spice any gravy with less oil but more of ginger ,onian, garlic, cinnamon, coriander
Take negative calorie food like fruits, green vegetables. Avoid potato, tapioca like underground stems
Take more anti obesity foods like soya beans, spinach, emblica fruits, papaya, garlic, asparagus roots, apple, cabbage, chilli, mango, cucumber, guggul, walnut, figs, fish, ginger, lemon, orange etc
Take 1 teaspoon honey mixed with 1 teaspoon lemon juice and 1 glass pure water regularly ( B.D, Before food )
ACTIVITY BURN CALORIES PER HOUR
A ) Running 700
B ) Jogging , 5mph - 500
C ) Cycling 650
D ) Dancing , aerobic 420
E ) Walking , 3mph 280
( Patient select either one of the exercise )
TREATMENT ( Treatment only after diagnosed by siddha doctor )
a. Neermulli kudineer - 1 teaspoon mixed with 3 glass water. Reduced to 1 glass, B.D Before food
b. Aya chendooram - 100mg B.D with honey, before food
c. Jalamanjari chendooram - " "
Combination of ( b and c ) mixed
d. Thriphala choornam - 5gm B.D After food with 1 glass hot water
e. Nathai churi choornam - " "
Combination of ( d and e ) mixed
VIRECHANA THERAPHY ONCE IN A MONTH
OTHER THERAPIES
Abyanga - 7 days
Podi Kizhi - 7 days
Udvarthanam - 7 days
Vasthi - 7 days
NOTE : The intention of this article is only for information. It is not a substitute to any other standard medical diagnosis. For proper treatment, always consult a qualified Ayurvedic physician.
---
References
Information of sources
xxxxxxxxxxxx
xxxxxxxxxxxx
xxxxxxxxxxxx
xxxxxxxxxxxx
xxxxxxxxxxxx
xxxxxxxxxxxx
xxxxxxxxxxxx
xxxxxxxxxxxx
xxxxxxxxxxxx
xxxxxxxxxxxx
xxxxxxxxxxxx
xxxxxxxxxxxx
xxxxxxxxxxxx
xxxxxxxxxxxx
xxxxxxxxxxxx
xxxxxxxxxxxx
xxxxxxxxxxxx
xxxxxxxxxxxx
xxxxxxxxxxxx
xxxxxxxxxxxx
xxxxxxxxxxxx
xxxxxxxxxxxx
xxxxxxxxxxxx
xxxxxxxxxxxx
xxxxxxxxxxxx
xxxxxxxxxxxx
xxxxxxxxxxxx
xxxxxxxxxxxx
xxxxxxxxxxxx
xxxxxxxxxxxx
xxxxxxxxxxxx
xxxxxxxxxxxx
xxxxxxxxxxxx
xxxxxxxxxxxx
xxxxxxxxxxxx
xxxxxxxxxxxx
xxxxxxxxxxxx
xxxxxxxxxxxx
xxxxxxxxxxxx
xxxxxxxxxxxx