Siddhar & Manuscripts
English pronunciation :
Siddhar & Manuscripts
/
Sanskrit संस्कृतम् :
not_available
/
Tamil தமிழ் :
சித்தர்களின் வர்ம நூல்கள்
Bahasa Melayu :
not_available
/
Malayalam :
not_available
/
Telugu :
తాళ పత్రం
/
Français :
not_available
---
Siddhar
Siddhar ( Tamil தமிழ் : சித்தர் )
Last Updated by Guruji

21 January 2019 (Mon) 04:30 AM (GMT+8)

on

Siddhar ( Tamil தமிழ் : சித்தர் ) are saints in India, mostly of the Saivaite denomination in Tamil Nadu, who professed and practised an unorthodox type of Sadhāna, or spiritual practice, to attain liberation. Yogic powers called Siddhis are acquired by constant practice of certain yogic disciplines. Those who acquire these Siddhis are called Siddhas. These sidhars can be compared to Mystics of the western civilization. Siddhars are people who are believed to control and transcend the barriers of time and space by meditation (Yoga), after the use of substances called Rasayanas that transform the body to make it potentially deathless, and a particular breathing-practice, a type of Pranayama. Through their practices they are believed to have reached stages of insight which enabled them to tune into the powers hidden in various material substances and practices, useful for suffering and ignorant mankind. Typically Siddhars were saints, doctors, alchemists and mysticists all at once. They wrote their findings, in the form of poems in Tamil language, on palm leaves which are collected and stored in what are known today as Palm leaf manuscript ( Tamil தமிழ் : ஓலைச் சுவடி ) are manuscripts made out of dried palm leaves and they served as the paper of the ancient world in parts of Asia as far back as the fifteenth century B.C.E and possibly much earlier, today still owned by private families in Tamil Nadu and handed down through the generations, as well as public institutions such as Universities all over the world (India, Germany, Great Britain, U.S.A.).
In this way Siddhars developed, among other branches of a vast knowledge-system, what is now known as Siddha medicine, practised mainly in Tamil Nadu as Traditional native medicine. A rustic form of healing that is similar to Siddha medicine has since been practised by experienced elderly in the villages of Tamil Nadu. ( This has been misunderstood as Paatti Vaitthiyam, Naattu marunthu and Mooligai marutthuvam. While paati vaitthiyam or naatu marunthu is traditional Tamil medicine and mooligai marutthuvam is Áyurveédic medicine. ) They are also founders of Varmam - a martial art for self-defence and medical treatment at the same time. Varmam are specific points located in the human body which when pressed in different ways can give various results, such as disabling an attacker in self-defence, or balancing a physical condition as an easy first-aid medical treatment.
Tamil Siddhars were the first to develop pulse-reading ( "naadi paarththal" in Tamil ) to identify the origin of diseases. This method was later copied and used in ayurvedha.
Siddhars have also written many religious poems. It is believed that most of them have lived for ages, in a mystic mountain called Sathuragiri, near Thanipparai village in Tamil Nadu.
One of the best-known Siddhars was Agasthyar or Agasthya, who is believed to be the founding father of Siddha culture.
Abithana Chintamani states Siddhars are either of the 9 or 18 persons enlisted, but sage Agastyar states that there are many who precede these and follow 9 or 18 persons. Many of the great Siddhars are regarded to have powers magical and spiritual.

The 9 siddhars
The 9 listed as Abithana Chintamani states is as follows:
1. Sathyanathar
2. Sadhoganathar
3. Aadhinathar
4. Anadhinathar
5. Vegulinathar
6. Madhanganathar
7. Machaendranathar
8. Gadaendranathar or Gajendranathar
9. Korakkanathar
The 18 siddhars
There are 18 siddhars in the Tamil siddha tradition ( Tamil தமிழ் : தமிழ்ச் சித்தர்கள் ). They are:
1. Sri Pātañjali Siddhar ( Tamil தமிழ் : பதஞ்சலி )
2. Sri Agastya Siddhar
3. Sri Kamalamuni Siddhar ( Tamil தமிழ் : கமலமுனி )
4. Sri Thirumoolar Siddhar ( Tamil தமிழ் : திருமூலர் )
5. Sri Kuthambai Siddhar ( Tamil தமிழ் : குதம்பைச் சித்தர் )
6. Sri Korakkar Siddhar ( Tamil தமிழ் : கோரக்கர் )
7. Sri Thanvandri Siddhar ( Tamil தமிழ் : தன்வந்திரி )
8. Sri Konganar Siddhar ( Tamil தமிழ் : கொங்கணர் )
9. Sri Sattamuni Siddhar ( Tamil தமிழ் : சட்டைமுனி )
10. Sri Vanmeegar Siddhar
11. Sri Ramadevar Siddhar ( Tamil தமிழ் : இராமதேவ சித்தர் )
12. Sri Nandeeswarar ( Nandidevar in Tamil தமிழ் : நந்தி தேவர் ) Siddhar
13. Sri Edaikkadar Siddhar ( Tamil தமிழ் : இடைக்காடர் )
14. Sri Machamuni Siddhar ( Tamil தமிழ் : மச்ச முனி )
15. Sri Karuvoorar Siddhar
16. Sri Bogar Siddhar ( Tamil தமிழ் : போக நாதர் )
17. Pambatti Siddhar ( Tamil தமிழ் : பாம்பாட்டி )
18. Sundarandandar ( Tamil தமிழ் : சுந்தரானந்த தேவர் )
All Siddhars were among the highest disciples of God Shiva, and are considered equal in their powers and devotion to the supreme God.
1. Eswarapattar
2. Lord Nandi, principal disciple of God Siva
3. Agastyar Mahā Munivar disciple of Lord Muruga from Anantasayana, head of the monasteries at Pothigai and Kumbakonam
4. Bogar of Pazhani, disciple of Agathiyar and Kalangi Nathar, 12th c. BCE
5. Thaeraiyar Muni of Ten Pothigai, disciple of Agastya, 10th c. BCE
6. Kalaingai Nathar of Kalahastri monastery,10th c.BCE
7. Korakkar of Paerur, from Thirukonamalai monastery, ?4th c. BCE
8. Pulippaani of Pazhani
9. Thadangann Siddhar
10. BramhaMuni, ?3rd c. BCE
11. Machamuni of Thirupparankundram, ?3rd c. BCE
12. Poonaikkannanaar of Egypt, ?3rd c.BCE
13. Romamunivar of Rome, ?2nd c. BCE
14. Kaaraichchiththar, ?2nd c.BCE
15. Kudhambai Siddhar of Mayilaaduthurai and Kumbakonam, ?2nd c. BCE
16. Kabilar I of Mithila, 2nd c. BCE.
17. Kaagaivanna Siddhar[i] of Kediya(South Sri Lanka), from Pothigai monastery, 2nd c. BCE
18. Dhanvantri from Kasi, of Vaitheeswaran Koil, ?1st c. BCE
19. Valmiki ( Tamil தமிழ் : வால்மீகி ), aka Vaanmeegar of Ettukkudi, ?1st c. BCE
20. Maarkkandeyanaar
21. Koonkannar
22. Kaalaichchittar II
23. Konganar of Tirupati, 1st c. BCE
24. Punnaakkeesar from Naangunaeri, head of Saanganachaeri monastery, 1st c. BCE
25. Karuvurar from Karuvur monastery
26. Kaaduvelichchiththar
27. Aenaathichchittar, 2nd c. CE
28. Idaikkaadar of Oosimuri(in Thondai Nadu), from ThiruAnnaamalai monastery, ?2nd-3rd c. BCE
29. Pulasthiyarfrom Maanthai, head of Aavudaiyaar Koil and Yaazhppaanam monasteries, 3rd c. CE
30. KamalaMuni of Thiruvaarur, ?4th c. BCE
31. Pātañjali of Rameswaram, 4th c. BCE
32. Azhaganiyaar of Nagapattinam, ?4th c. CE
33. Kailasanathar, 5th c. CE
34. Kuranguchchittar of Pazhani, 5th c. CE
35. Sattaimuni of ThiruArangam, ?5th c. CE
36. Vaamathevar of Azhagarmalai, ?5th c. CE
37. Agappaei Siddhar of Azhagarmalai, ?3rd c. CE
38. Sivavaakkiyar from Kollimalai, of Thirumazhisai monastery, ?4-5th c. CE
39. Sundarandandar of Madurai, ?5th c. CE
40. Ramadevar of Azhagarmalai
41. Thirumoolar from ThiruAaAduthurai, of ThiruAathavoor monastery, head of Thillai Citrambalam[i] monastery, 8th c. BCE
42. Sri Jnyaaneswar of Gujarat
43. Kaagapujundar, Leader for all nathats, 8 BCE
44. VaasaMuni
45. KoormaMuni
46. Visvamitrar
47. Kumbhamuni ( Tamil தமிழ் : கும்பமுனி )
48. Kaduveli of Irumbai
49. Nandeeswarar of Kasi, from Thillai monastery, 6th c. CE
50. Pattinattaar of Pugaar, 7th c. CE
51. Karuvoorar from Karuvoor, of Thanjai monastery, master of Rajaraja Chola, 10th c. CE
52. Pambatti Siddhar from Jnaneswaram ( Sarankovil ), of Vilaimalai ( Vriddhachalam ) monastery, 15th c.
53. Vaalai Siddhar of Valangaimaan
54. Edaikadar II, ?15th c. CE
55. Ganapathi Siddhar
56. SuBrāhmaṇya Siddhar
57. Sooriyaananthar
58. Lokaayuthar
59. Bathragiriyaar of Badrachalam, from Thillai monastery
60. Kalunni Siddhar
61. Naga Siddhar ( Mahāvatar Babaji ) disciple of Agathiyar and Bogar, 203th,from Himalaya
62. ArunaGiri Nathar 1500th,from Thiruvanamalai
63. Ramalingam Swamigal Vallalar from Chidambaram

Powers of siddhars
The siddhars are believed to have had powers both major and other 'minor' powers. These 8 are the Great Siddhis ( Ashtama siddhis ), Eight kinds of supernatural (Divine) powers or Great Perfections and they are explained in detail in various yogic as well as religious texts ; Thirumandiram 668 :
1. Anima ( Atomising / Shrinking )
Power of becoming the size of an atom and entering the smallest beings.
2. Mahima ( Expansion / illimitability )
Power of becoming mighty and co-extensive with the universe. The power of increasing one's size without limit.
3. Lahima ( Lightness )
Capacity to be quite light though big in size.
4. Karima ( Heaviness / Weight )
Capacity to weigh heavy, though seemingly small size.
5. Prapthi / Propthi ( Achievement / Fulfillment of Desires )
Capacity to enter all the worlds from Brāhma Loga to the neither world. It is the power of attaining everything desired.
6. Prakasysm / Prahamiyam ( Obtaining desired things / irresistible will )
Power of disembodying and entering into other bodies (metempsychosis) and going to heaven and enjoying what everyone aspires for, simply from where he stays.
7. Isithavam / Esathuvam ( Attainment of salvation / supremacy )
Have the creative power of God and control over the Sun, the moon and the elements.
8. Vasithavam / Vasithuvam ( attracting power / dominion over the elements )
Power of control over King and Gods. The power of changing the course of nature and assuming any form.
8 Stages of Yoga (Astanga Yogam)
Purity of mind ( Iyamam )
Purity of action ( Niyamam )
Postures ( Asanam )
Breathing exercise ( Pranayamam )
Sense withdrawal ( Prathyakaram / Prathiyakaram )
Concentration ( Dhāraṇāi )
Contemplation ( Meditation ) ( Dhyanam / Dhiyanam )
Ecstasy ( Samādhi )
6 MAJOR DIVISIONS
Gnanam ( Wisdom )
Vadham ( Alchemy )
Jothidam ( Astrology )
Maanthrikam ( Magic )
Siddha Manuscript
Siddha / Varma Kalai Manuscript
Last Updated by Guruji

21 January 2019 (Mon) 04:30 AM (GMT+8)

on

Below listed are some of the Varma Kalai manuscripts
Agasthiyar Varma Thiravukol ( Tamil தமிழ் :

அகத்தியர் வர்ம திறவுகோள்

)
Agasthiyar Varma Kandi ( Tamil தமிழ் :

அகத்தியர் வர்ம கண்டி

)
Agasthiyar Oosi Murai Varmam ( Tamil தமிழ் :

அகத்தியர் ஊசி முறை வர்மம்

)
Agasthiyar Vasi Varmam
Varma Odivu Murivu ( Tamil தமிழ் :

வர்ம ஒடிவு முறிவு சாரி - அகத்தியர்

)
Agasthiyar Varma Kannadi ( Tamil தமிழ் :

அகத்தியர் வர்ம கண்ணாடி

)
Varma Varisai ( Tamil தமிழ் :

வர்ம வரிசை

)
Agasthiyar Mei Theendakalai ( Tamil தமிழ் :

அகத்தியர் மெய் தீண்டகலை

)
Books on Varmam
The main purpose of this rare ancient art of Varmam is to save the precious human lives. Misuse of this ancient art has caused our masters and ancestors to conceal informative texts about Varmam, which are in the form of palm-leaf manuscripts. Today, those manuscripts are in the brink of extinction. Hundreds of such rare manuscripts are scattered across many houses in South India (Tamil Nadu and Kerala). It is our duty to collect, processes, and transform these rare manuscripts into a form helpful to the Siddha Medicine. It is also our duty to safeguard these valuable texts and pass it on to the next generation. Thirumoolar Varmalogy Institute vows to do this task.
By analyzing the Varmam texts that are collected so far, our researchers have arrived at the following seven hypotheses of teaching Varmam. They are:
Teaching Varmam points in relationship with self-defense
Teaching Varmam points and their characteristics
Teaching Varmam points in relationship with nervous system
Teaching Varmam points in relationship with skeletal system
Teaching reviving methods to cure diseases caused by Varmam
Teaching medicines to cure diseases caused by Varmam
Teaching spells (mantras) to cure diseases caused by Varmam
Names of the few known text are as follows:
Varma Suthram ( Tamil தமிழ் :

வர்ம சூத்திரம் - போகர்

)
Varma Beerangi
Naalu Maathirai
Naramparai
Narambu Suthram 100 ( Tamil தமிழ் :

நரம்பு சூத்திரம் 100

)
Narambu Suthram 400 ( Tamil தமிழ் :

நரம்பு சூத்திரம் 400

)
Varma Odivu Murivu Sara Suthram 1500 ( Tamil தமிழ் :

வர்ம ஒடிவு முறிவு சர சூத்திரம் 1500

)
Panchakarnapinnal
Alavunool Piramaanam
Varma Odivu Murivu Kāṇḍasaari 300
Varma Thoondamani
Aksakkural Venba 300
Varma Gandam ( Tamil தமிழ் :

வர்ம காண்டம்

) by Puli Pani ( Tamil தமிழ் :

புலிப்பாணி

)
Hundreds of similar such texts are never published and the world has no clue about them.
Varmam School of Thoughts
On researching over the available Varmam texts, it is evident that Varmam has grown under 3 independent schools of thoughts, mainly governed by 3 ancient siddha's namely Agasthiyar, Bohar and RamaDevar.
Philosophies of Varmam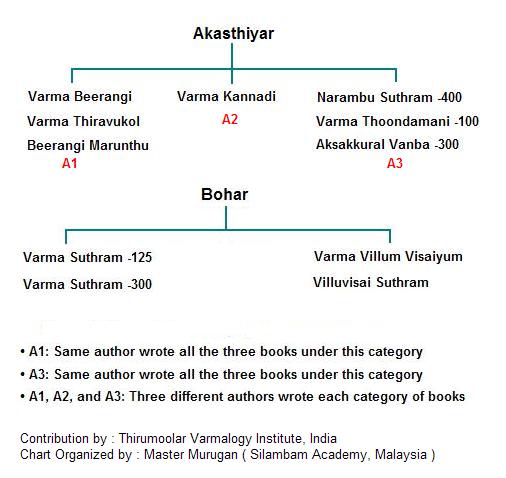 If we research the basic philosophies of the books in the category A1, A2 and A3, we can reach the philosophy of School A. Similarly by researching the basic philosophies of the books in other categories, we can arrive at the following 3 school of thoughts.
Agasthiyar ( Tamil தமிழ் :

அகத்தியர்

) School of Thought
Bohar ( Tamil தமிழ் :

போகர்

) School of Thought
Rama Devar School of Thought
Please note that though we haven't come across any books written by Rama Devar, a separate school of thought has been created under his name. This is based on the inference from the following poem :
Kai Mathirai Thiravukol Verse 41
" பண்பாக அகத்தியனார் . ராமதேவர்
பணிவாக போகமுனிவர் தானும்
பருவமாய் மனிதர்கள் பிழைக்கவென்று
பாங்காகச் சொன்னதொரு நூல்கள் கண்டு
பார்த்திடவே சுருக்கமாய் பிரித்துச் சொன்னேன் "

Published Siddha Manuscripts (Alphabetical Order)

Published Siddha Books (Alphabetical Order)

List of known Varmam Books (in Tamil)
வர்ம மருத்துவ நூல்களின் பெயர்கள்
வ.

எண்

நூலின் பெயர்

ஆசிரியர்

பதிப்பாளர்

குறிப்பு/

பதிப்பித்த ஆண்டு

1.

வர்ம அளவை நூல்

டாக்டர் .த. கண்ணன் ராஜாராம்

தமிழ் மருத்துவ கழகம்

1993

2005

2.

வர்ம மருத்துவத்தின் அடிப்படைகள்

டாக்டர் .த. கண்ணன் ராஜாராம்

டாக்டர்.த. மோகனராஜ்

2007

3.

வர்ம புள்ளிகளின் இருப்பிடம்

டாக்டர் .த. கண்ணன் ராஜாராம்

டாக்டர்.த. மோகனராஜ்

2007

4.

வர்ம மருத்துவம் (சிறப்பு)

டாக்டர் .த. கண்ணன் ராஜாராம்

டாக்டர்.த. மோகனராஜ்

2007

5.

வர்ம மருத்துவம் (பொது)

டாக்டர் .த. கண்ணன் ராஜாராம்

டாக்டர்.த. மோகனராஜ்

2008

6.

வர்ம மருந்து செய்முறைகள்

டாக்டர் .த. கண்ணன் ராஜாராம்

டாக்டர்.த. மோகனராஜ்

2008

7.

வர்ம ஒடிவு முறிவு மருத்துவம் ( எலும்பு முறிவு - தொகுதி-1)

டாக்டர் .த. கண்ணன் ராஜாராம்

டாக்டர்.த. மோகனராஜ்

2008

8.

வர்ம ஒடிவு முறிவு மருத்துவம் ( நரம்பு முறிவு – தொகுதி-2)

டாக்டர் .த. கண்ணன் ராஜாராம்

டாக்டர்.த. மோகனராஜ்

UNDER PROCESSING FOR PRINTING

9.

வர்ம மருத்துவம்

டாக்டர் .த. கண்ணன் ராஜாராம்

டாக்டர்.த. மோகனராஜ்

2011

10.

வர்மம் – 108

டாக்டர் .த. கண்ணன் ராஜாராம்

டாக்டர்.த. மோகனராஜ்

2012

11.

வர்ம மருத்துவம் – தொடக்கப் பயிற்சிக் கையேடு

டாக்டர் .த. கண்ணன் ராஜாராம்

டாக்டர்.த. மோகனராஜ்

தமிழ்- ஆங்கிலம்

12.

வர்ம நூலளவு சூத்திரம்

டாக்டர் .த. கண்ணன் ராஜாராம்

டாக்டர்.த. மோகனராஜ்

UNDER PROCESSING FOR PRINTING

13.

வர்ம ஒடிவு முறிவு சாரி சூத்திரம் -1500

டாக்டர்.த. மோகனராஜ்

2009

14.

வர்ம ஒடிவு முறிவு சர சூத்திரம் -1200

டாக்டர்.த. மோகனராஜ்

2009

15.

வர்ம சர சூத்திரத் திறவுகோல் -36

1,டாக்டர்.த. மோகனராஜ்

2, மூலச்சல் ராஜேந்திரன்

2009

16.

சதுரமணி சூத்திரம்-600

டாக்டர்.த. மோகனராஜ்

2009

17.

உற்பத்தி நரம்றை

டாக்டர்.த. மோகனராஜ்

2010

18.

லாட சூத்திரம் -300

டாக்டர்.த. மோகனராஜ்

2010

19.

அடிவர்ம சூட்சம்

டாக்டர்.த. மோகனராஜ்

2010

20.

வர்ம லாட சூத்திரம்

டாக்டர்.த. மோகனராஜ்

2010

21.

வர்ம சூத்திரம் -200

டாக்டர்.த. மோகனராஜ்

2010

22.

வர்ம பீரங்கி -100

1,டாக்டர்.த. மோகனராஜ் 2,ஜெபக்கனி பாக்கியநாதன் நாடார்

3,ம.செல்வராஜ்

4, வி. நிசி வில்சன்

2010

1938

1998

2003

23.

படுவர்ம விவர தத்துவக்கட்டளை

டாக்டர்.த. மோகனராஜ்

2010

24.

நாலு மாத்திரை உரை -180

டாக்டர்.த. மோகனராஜ்

2010

25.

வர்மாணி சூத்திரம் -100

டாக்டர்.த. மோகனராஜ்

2010

26.

ஒடிவு முறிவு கட்டுமுறை சாரி -110

டாக்டர்.த. மோகனராஜ்

2010

27.

ஒடிவு முறிவு கட்டு சூத்திரம் -60

டாக்டர்.த. மோகனராஜ்

2010

28.

வர்ம சூத்திரம் -50

1,டாக்டர்.த. மோகனராஜ் 2,ஜெபக்கனி பாக்கியநாதன் நாடார்

3,ம.செல்வராஜ்

4, வி. நிசி வில்சன்

2010

1938

1998

2003

29.

வர்ம பீரங்கி திறவுகோல் -16

1,டாக்டர்.த. மோகனராஜ் 2,ஜெபக்கனி பாக்கியநாதன் நாடார்

3,ம.செல்வராஜ்

4, வி. நிசி வில்சன்

2010

1938

1998

2003

30.

வர்ம சூடாமணி

டாக்டர்.த. மோகனராஜ்

டாக்டர்.வி. நிசி வில்சன்

2013

2004

31.

வர்ம கண்ணாடி -500

1,டாக்டர்.த. மோகனராஜ்

2,டாக்டர்.எ.மரிய ஜோசப்

2013

2000

32.

வர்ம கலைகண்ணாடி சூத்திரம் -200

டாக்டர்.த. மோகனராஜ்

2013

33.

வர்ம கலை கண்ணாடி சூத்திர திறவுகோல்

டாக்டர்.த. மோகனராஜ்

2013

34.

வர்மநூலேணி – 200

டாக்டர்.த. மோகனராஜ்

UNDER PROCESSING FOR PRINTING

35.

வர்மசூட்சாதிசூட்சம் – 100

டாக்டர்.த. மோகனராஜ்

UNDER PROCESSING FOR PRINTING

36

வர்மகண்டி – 60

1,டாக்டர்.த. மோகனராஜ் 2,ஜெபக்கனி பாக்கியநாதன் நாடார்

UNDER PROCESSING FOR PRINTING

1938

37.

வர்மஅளவுநூல் – 50

டாக்டர்.த. மோகனராஜ்

UNDER PROCESSING FOR PRINTING

38.

வர்மமுத்திரை – 200

டாக்டர்.த. மோகனராஜ்

UNDER PROCESSING FOR PRINTING

39.

தட்டுவர்மநிதானம்32

டாக்டர்.த.

மோகனராஜ்

UNDER PROCESSING FOR PRINTING

40.

உள்சூத்திரம் – 32

டாக்டர்.த.

மோகனராஜ்

UNDER PROCESSING FOR PRINTING

41.

வர்மகைமுறை – 36

டாக்டர்.த. மோகனராஜ்

UNDER PROCESSING FOR PRINTING

42.

வர்மதீர்ப்பு – 32

டாக்டர்.த. மோகனராஜ்

UNDER PROCESSING FOR PRINTING

43.

வர்மகாவியம் – 28

டாக்டர்.த. மோகனராஜ்

UNDER PROCESSING FOR PRINTING

44.

வர்மாணி – 16

டாக்டர்.த. மோகனராஜ்

UNDER PROCESSING FOR PRINTING

45.

வர்மபீரங்கி 100-க்கு திறவுகோல் 16

டாக்டர்.த. மோகனராஜ்

UNDER PROCESSING FOR PRINTING

46.

வர்மபொன்னூசிதிறவுகோல்

டாக்டர்.த. மோகனராஜ்

UNDER PROCESSING FOR PRINTING

47.

தொடுவர்மதிறவுகோல் 16

டாக்டர்.த. மோகனராஜ்

UNDER PROCESSING FOR PRINTING

id black .5pt; mso-border-left-themecolor: text1; mso-border-top-alt: solid black .5pt; mso-border-top-themecolor: text1; mso-border-bottom-themecolor: text1; mso-border-right-themecolor: text1;">

UNDER PROCESSING FOR PRINTING

114.

வர்ம குருநாடித் திறவுகோல் -32

டாக்டர்.த. மோகனராஜ்

UNDER PROCESSING FOR PRINTING

115.

வர்ம உற்பன சாரி -32

டாக்டர்.த. மோகனராஜ்

UNDER PROCESSING FOR PRINTING

lass="Data_Cell" width="55" valign="top" style="border-width: medium 1pt 1pt; border-style: none solid solid; border-color: currentColor black black; padding: 0cm 5.4pt; border-image: none; width: 41.1pt; height: 22.45pt; mso-border-alt: solid black .5pt; mso-border-themecolor: text1; mso-border-top-alt: solid black .5pt; mso-border-top-themecolor: text1;">

50.

வர்மஅங்காதிபாதம்

டாக்டர்.த. மோகனராஜ்

UNDER PROCESSING FOR PRINTING

51.

வர்மகுருநாடி

டாக்டர்.த. மோகனராஜ்

UNDER PROCESSING FOR PRINTING

52.

வர்மகுருநாடிதிறவுகோல்

டாக்டர்.த. மோகனராஜ்

UNDER PROCESSING FOR PRINTING

53.

வர்மசாரி

டாக்டர்.த. மோகனராஜ்

UNDER PROCESSING FOR PRINTING

54.

வர்மவில்லும்விசையும்சூத்திரம்

1,டாக்டர்.த. மோகனராஜ் 2,ஜெபக்கனி பாக்கியநாதன் நாடார்

UNDER PROCESSING FOR PRINTING

1938

55.

வர்மஒளி -1000

டாக்டர்.த. மோகனராஜ்

UNDER PROCESSING FOR PRINTING

56.

வர்மநிதானம் – 500

டாக்டர்.த. மோகனராஜ்

UNDER PROCESSING FOR PRINTING

57.

வர்ம ஞான ஒடிவு முறிவு சர சூத்திரம் 2200

டாக்டர்.த. மோகனராஜ்

UNDER PROCESSING FOR PRINTING

58.

வர்ம காண்டம் -1500

டாக்டர்.த. மோகனராஜ்

UNDER PROCESSING FOR PRINTING

59.

வர்ம சூட்சம் -1500

டாக்டர்.த. மோகனராஜ்

UNDER PROCESSING FOR PRINTING

60.

ஒடிவு முறிவு சாரி நிகண்டகராதி -1200

டாக்டர்.த. மோகனராஜ்

UNDER PROCESSING FOR PRINTING

61.

வர்ம நிதானம் -500

டாக்டர்.த. மோகனராஜ்

UNDER PROCESSING FOR PRINTING

62.

வர்ம அவதி நிதானம் -500

டாக்டர்.த. மோகனராஜ்

UNDER PROCESSING FOR PRINTING

63.

வர்ம மருந்து சூத்திரம் -500

டாக்டர்.த. மோகனராஜ்

UNDER PROCESSING FOR PRINTING

64.

வர்ம சூடாமணி -500

டாக்டர்.த. மோகனராஜ்

UNDER PROCESSING FOR PRINTING

65.

அகத்தியர் குருநாடி -500

டாக்டர்.த. மோகனராஜ்

UNDER PROCESSING FOR PRINTING

66.

பஞ்ச சூத்திரம் -500

டாக்டர்.த. மோகனராஜ்

2013

67.

வர்ம தூண்டாமணி -416

---

NOT AVAILABLE WITH PUBLISHER

68.

நாலு (மணி) மாத்திரை -400

(உரை)

டாக்டர்.த. மோகனராஜ்

UNDER PROCESSING FOR PRINTING

69.

வாகட நிதானம் -350

டாக்டர்.த.

மோகனராஜ்

UNDER PROCESSING FOR PRINTING

70.

வர்ம சார சங்கிரக முறிவு சாரி -350

டாக்டர்.த. மோகனராஜ்

UNDER PROCESSING FOR PRINTING

71.

வர்ம ஒடிவு முறிவு ஞானம் -300

1,டாக்டர்.த. மோகனராஜ் 2,ஜெபக்கனி பாக்கியநாதன் நாடார்

UNDER PROCESSING FOR PRINTING 1938

72.

வில்விசை கை வல்லியம் -300

டாக்டர்.த. மோகனராஜ்

UNDER PROCESSING FOR PRINTING

73.

வர்ம அட்சரக் குறள் -300

---

NOT AVAILABLE WITH PUBLISHER

74.

உற்பன சாரி -205

டாக்டர்.த. மோகனராஜ்

UNDER PROCESSING FOR PRINTING

75.

வர்ம திறவு கோல்225

டாக்டர்.த. மோகனராஜ்

UNDER PROCESSING FOR PRINTING

76.

நரம்பு பின்னல் சூத்திரம் -213

டாக்டர்.த. மோகனராஜ்

UNDER PROCESSING FOR PRINTING

77.

வர்ம சூத்திரம் -205

டாக்டர்.த. மோகனராஜ்

UNDER PROCESSING FOR PRINTING

78.

சிகிச்சை முறிவு சாரி -205 (உரை)

டாக்டர்.த. மோகனராஜ்

UNDER PROCESSING FOR PRINTING

79.

வர்ம சாரி -205

டாக்டர்.த. மோகனராஜ்

UNDER PROCESSING FOR PRINTING

80.

நரம்பு சூத்திரம் -150

டாக்டர்.த. மோகனராஜ்

UNDER PROCESSING FOR PRINTING

81.

வர்ம குரு நூல் -130

டாக்டர்.த. மோகனராஜ்

UNDER PROCESSING FOR PRINTING

82.

வர்ம நிதானம் -125

டாக்டர்.த. மோகனராஜ்

UNDER PROCESSING FOR PRINTING

83.

நாலு மாத்திரை -120

(உரை)

1,டாக்டர்.த. மோகனராஜ் 2,ஜெபக்கனி பாக்கியநாதன் நாடார்

UNDER PROCESSING FOR PRINTING 1938

84.

வர்ம தத்துவ சூடாமணி -100

1,டாக்டர்.த. மோகனராஜ்

2, பி. ராமசாமி ஆசான்

UNDER PROCESSING FOR PRINTING

1999

85.

சூக்கும சிந்தாமணி -120

டாக்டர்.த. மோகனராஜ்

UNDER PROCESSING FOR PRINTING

86.

தொடு வர்ம நிதானம் -110

டாக்டர்.த. மோகனராஜ்

UNDER PROCESSING FOR PRINTING

87.

பாதாதி கேச வர்ம ஆணி -108 (உரை)

டாக்டர்.த. மோகனராஜ்

UNDER PROCESSING FOR PRINTING

88.

வர்ம கண்டி சாஸ்திரம் -108

டாக்டர்.த. மோகனராஜ்

UNDER PROCESSING FOR PRINTING

89.

வர்ம நரம்பறை -108

டாக்டர்.த. மோகனராஜ்

UNDER PROCESSING FOR PRINTING

90.

வர்ம நூல் -100

டாக்டர்.த. மோகனராஜ்

UNDER PROCESSING FOR PRINTING

91.

வர்ம வில்லங்க அளவு கோர்வை -100 (எனும் வர்ம தச்சு சாஸ்திரம்)

டாக்டர்.த. மோகனராஜ்

UNDER PROCESSING FOR PRINTING

92.

வர்ம அமத்தல் முறை

1,டாக்டர்.த. மோகனராஜ்

2, பி.ராமசாமி ஆசான்

UNDER PROCESSING FOR PRINTING

1999

93.

நரம்பு சூத்திரம் -100

டாக்டர்.த. மோகனராஜ்

UNDER PROCESSING FOR PRINTING

94.

வைத்திய சதகம் -100

டாக்டர்.த. மோகனராஜ்

UNDER PROCESSING FOR PRINTING

95.

வர்ம முடமுறிவு சாரி -100

டாக்டர்.த. மோகனராஜ்

UNDER PROCESSING FOR PRINTING

96.

முறிவு நிதானம் -100

டாக்டர்.த. மோகனராஜ்

UNDER PROCESSING FOR PRINTING

97.

வர்ம குண்டூசி -100

---

NOT AVAILABLE

WITH PUBLISHER

98.

வர்ம விதி -67

டாக்டர்.த. மோகனராஜ்

UNDER PROCESSING FOR PRINTING

99.

அகத்தியர் சுவடுமுறை -64

டாக்டர்.த. மோகனராஜ்

UNDER PROCESSING FOR PRINTING

100.

இலாட சூத்திரம் -64

டாக்டர்.த. மோகனராஜ்

UNDER PROCESSING FOR PRINTING

101.

அடங்கல் மாத்திரை திறவு கோல் -51

டாக்டர்.த. மோகனராஜ்

UNDER PROCESSING FOR PRINTING

102.

வர்ம சூட்ச கைபாக கை வல்லிய நூல் -50

டாக்டர்.த. மோகனராஜ்

UNDER PROCESSING FOR PRINTING

103.

வர்ம நூலளவு சூத்திரம் -50

டாக்டர்.த. மோகனராஜ்

UNDER PROCESSING FOR PRINTING

104.

வர்ம கண்டி -60

1,டாக்டர்.த. மோகனராஜ்

2,ஜெபக்கனி பாக்கியநாதன் நாடார்

UNDER PROCESSING FOR PRINTING

1938

105.

ஒடிவு முறிவு கட்டு சூத்திரம் -60

டாக்டர்.த. மோகனராஜ்

UNDER PROCESSING FOR PRINTING

106.

வர்ம சாத்திரம் -60

டாக்டர்.த. மோகனராஜ்

UNDER PROCESSING FOR PRINTING

107.

முறிவு கட்டு திறவு கோல் -50

டாக்டர்.த. மோகனராஜ்

UNDER PROCESSING FOR PRINTING

108.

வர்ம வில்லும் விசையும் -50

டாக்டர்.த. மோகனராஜ்

UNDER PROCESSING FOR PRINTING

109.

நாலு மாத்திரை திறவு கோல் -50 (உரை)

டாக்டர்.த. மோகனராஜ்

UNDER PROCESSING FOR PRINTING

110.

வர்ம கைமுறை சூட்சம் -36

டாக்டர்.த. மோகனராஜ்

UNDER PROCESSING FOR PRINTING

111.

வர்ம கைவல்லியம் -36

டாக்டர்.த. மோகனராஜ்

UNDER PROCESSING FOR PRINTING

112.

நரம்பு சூத்திரம் -35

டாக்டர்.த. மோகனராஜ்

UNDER PROCESSING FOR PRINTING

113.

வர்ம குருநாடி -35

டாக்டர்.த. மோகனராஜ்

UNDER PROCESSING FOR PRINTING

114.

வர்ம குருநாடித் திறவுகோல் -32

டாக்டர்.த. மோகனராஜ்

UNDER PROCESSING FOR PRINTING

115.

வர்ம உற்பன சாரி -32

டாக்டர்.த. மோகனராஜ்

UNDER PROCESSING FOR PRINTING

116.

வர்ம அளவு நூல் -30 (உரை)

1,டாக்டர்.த. மோகனராஜ்

2,ஜெபக்கனி பாக்கியநாதன் நாடார்

UNDER PROCESSING FOR PRINTING

1938

117.

வர்ம வாசிநிலை சர நூல்

டாக்டர்.த. மோகனராஜ்

UNDER PROCESSING FOR PRINTING

118.

வர்ம சூடி

டாக்டர்.த. மோகனராஜ்

UNDER PROCESSING FOR PRINTING

119.

போகர் வர்ம சூத்திரம் -25

டாக்டர்.த. மோகனராஜ்

UNDER PROCESSING FOR PRINTING

120.

உள்ளுர அடங்கல் அடக்கம் -24

டாக்டர்.த. மோகனராஜ்

UNDER PROCESSING FOR PRINTING

121.

பஞ்ச சூத்திர திறவு கோல் -20

டாக்டர்.த. மோகனராஜ்

UNDER PROCESSING FOR PRINTING

122.

நரம்பறை -400

டாக்டர்.த. மோகனராஜ்

UNDER PROCESSING FOR PRINTING

123.

வர்ம தடவு முறை-16

டாக்டர்.த. மோகனராஜ்

UNDER PROCESSING FOR PRINTING

124.

வர்மானி -16

டாக்டர்.த. மோகனராஜ்

UNDER PROCESSING FOR PRINTING

125.

வர்ம கண்டி -16

டாக்டர்.த. மோகனராஜ்

UNDER PROCESSING FOR PRINTING

126.

வர்ம சுரநூல் -16

டாக்டர்.த. மோகனராஜ்

UNDER PROCESSING FOR PRINTING

127.

வர்ம திறவுகோல் -16

டாக்டர்.த. மோகனராஜ்

UNDER PROCESSING FOR PRINTING

128.

பொன்னூசி திறவுகோல் -16

டாக்டர்.த. மோகனராஜ்

UNDER PROCESSING FOR PRINTING

129.

வர்ம தத்துவ சூடாமணி -100

1,டாக்டர்.த. மோகனராஜ்

2, பி. ராமசாமி ஆசான்

UNDER PROCESSING FOR PRINTING

1999

130.

வர்மாணி சூத்திரம்

டாக்டர்.த. மோகனராஜ்

UNDER PROCESSING FOR PRINTING

131.

நடசாரி -16

டாக்டர்.த. மோகனராஜ்

UNDER PROCESSING FOR PRINTING

132.

தொடு வர்மத் திறவு கோல் -16

டாக்டர்.த. மோகனராஜ்

UNDER PROCESSING FOR PRINTING

133.

சர்வாங்க அடங்கல் ஆணி -13

டாக்டர்.த. மோகனராஜ்

UNDER PROCESSING FOR PRINTING

134.

சர்வாங்க அடங்கல்

திறவு கோல் -13

டாக்டர்.த. மோகனராஜ்

UNDER PROCESSING FOR PRINTING

135.

துரித இளக்குமுறை அடங்கல் திறவு கோல் -13

டாக்டர்.த. மோகனராஜ்

UNDER PROCESSING FOR PRINTING

136.

வர்ம ஆணித் திறவு கோல் -18

1,டாக்டர்.த. மோகனராஜ்

2, பி. ராமசாமி ஆசான்

UNDER PROCESSING FOR PRINTING

1999

137.

சான்றோர் இரகசியம் -10

டாக்டர்.த. மோகனராஜ்

UNDER PROCESSING FOR PRINTING

138.

வர்ம அசாத்தியம் -10

டாக்டர்.த. மோகனராஜ்

UNDER PROCESSING FOR PRINTING

139.

தட்டு வர்மச் சுவடு -8

டாக்டர்.த. மோகனராஜ்

UNDER PROCESSING FOR PRINTING

140.

மரண கண்டி -6

டாக்டர்.த. மோகனராஜ்

UNDER PROCESSING FOR PRINTING

141.

வர்ம ஆரம் -6

1,டாக்டர்.த. மோகனராஜ்

2,பி. ராமசாமி ஆசான்

UNDER PROCESSING FOR PRINTING

1999

142.

கர்ப்பிணிகள் வர்ம இளக்குமுறை -5 (உரை)

1,டாக்டர்.த. மோகனராஜ்

2,ஜெபக்கனி பாக்கியநாதன் நாடார்

UNDER PROCESSING FOR PRINTING

1938

143.

வர்ம விளக்கம் (உரை)

டாக்டர்.த. மோகனராஜ்

UNDER PROCESSING FOR PRINTING

144.

வர்ம கல்பம் -62

டாக்டர்.த. மோகனராஜ்

UNDER PROCESSING FOR PRINTING

145.

பிராண அடக்கம் எனும் வர்ம தெய்வீக அடங்கல்கள்

டாக்டர்.த. மோகனராஜ்

UNDER PROCESSING FOR PRINTING

146.

வர்ம விரலளவு நூல் (உரை)

டாக்டர்.த. மோகனராஜ்

UNDER PROCESSING FOR PRINTING

147.

வர்ம விரலளவு சூத்திரம்

டாக்டர்.த. மோகனராஜ்

UNDER PROCESSING FOR PRINTING

148.

வர்மமும் எழுப்பு முறையும்

டாக்டர்.த. மோகனராஜ்

UNDER PROCESSING FOR PRINTING

149.

அடுக்கு நிலை போதகம் (வர்ம தற்க சாஸ்திரம்)

டாக்டர்.த. மோகனராஜ்

UNDER PROCESSING FOR PRINTING

150

சீவோற்பத்தி சிந்தாமணி

டாக்டர்.த. மோகனராஜ்

2010

151.

வர்ம கைபாக கைவல்லியம் நூல்

டாக்டர்.த. மோகனராஜ்

UNDER PROCESSING FOR PRINTING

152.

மங்கையர் மணி

டாக்டர்.த. மோகனராஜ்

UNDER PROCESSING FOR PRINTING

153.

வர்ம கண்டி

(வடக்கன் வழி)

டாக்டர்.த. மோகனராஜ்

UNDER PROCESSING FOR PRINTING

154.

கர்ப சாரி சூத்திரம்

டாக்டர்.த. மோகனராஜ்

UNDER PROCESSING FOR PRINTING

155.

பீமன் வழி குறுந்தடி சிரமம் -120

டாக்டர்.த. மோகனராஜ்

UNDER PROCESSING FOR PRINTING

156.

அகத்தியர் கம்பு சூத்திரம்

டாக்டர்.த. மோகனராஜ்

UNDER PROCESSING FOR PRINTING

157.

கூடலொழிவு சிரமம்

டாக்டர்.த. மோகனராஜ்

UNDER PROCESSING FOR PRINTING

158.

முறிவு சாரி

அடங்கல் -80

டாக்டர்.த. மோகனராஜ்

UNDER PROCESSING FOR PRINTING

159.

காய நிதானம்

டாக்டர்.த. மோகனராஜ்

UNDER PROCESSING FOR PRINTING

160.

மாட்டு வர்ம

வாகடம்

டாக்டர்.த. மோகனராஜ்

UNDER PROCESSING FOR PRINTING

161.

வர்ம வைத்திய மகுடம்

ஜெபக்கனி பாக்கியநாதன் நாடார்

1938

162.

வர்ம சாஸ்திர சமகாரம்

கொச்சு கிருஷ்ணன் நாடார்

1968

மலையாளம்

163.

வர்ம சாஸ்திர பீடிகா

குஞ்சு கிருஷ்ணன் நாடார்

1975

மலையாளம்

164.

லாட சூத்திரம் -1200

பி. வில்சன்

2000

165.

வர்ம கலைக் களஞ்சியம்

அலக்சாண்டர் ஆசான்

அலக்சாண்டர் ஆசான்

2000

166.

தென்பாண்டித் தமிழரின் சிலம்ப வரலாறும் அடிமுறைகளும் தொகுதி-1

அருணாசலம்

அருணாசலம்

1995

167.

தென்பாண்டித் தமிழரின் சிலம்ப வரலாறும் அடிமுறைகளும் தொகுதி-2

அருணாசலம்

நாட்டார் வழக்காற்றியல் ஆய்வு மையம்

1998

168.

வர்ம அறிவியல் பாடநூல்

மூலச்சல் ராஜேந்திரன்

2006

169.

வர்ம மருத்துவ கையடக்கம்

மூலச்சல் ராஜேந்திரன்

2012

170.

ஒடிவு முறிவு சாரி நிகண்டகராதி -1200

(500 பாடல் மட்டும்)

சூ, ராஜாமணி

1991

171.

வர்ம விதி

ர. தியாகராஜன்

1976

172.

படுவர்மம் -12

சு. சாம்ராஜ்

1983

173.

நெடும் சிலம்பக் கலை பாகம் -1

பி. ராமசாமி ஆசான்

1999

174.

நெடும் சிலம்பக் கலை பாகம் -2

பி. ராமசாமி ஆசான்

2000

175.

சித்தர்களின் வர்ம சூத்திரங்கள்

R.C. மோகன்

தாமரைநூலகம்

2006

List of known Varmam Books (in English)
வர்ம மருத்துவ நூல்களின் பெயர்கள்
S.NO

NAME OF THE BOOKS

AUTHOR

PUBLISHER

REMARKS/

PUB.YEAR

1.

VARMA ALAVAI NOOL

Dr. T.KANNAN RAJARAM

TAMIL MARUTHUVA KALAGAM

1993

2005

2.

FUNDAMENTALS OF VARMA MEDICINE

Dr. T.KANNAN RAJARAM

Dr. T.MOHANARAJ

2007

3.

LOCATION OF VARMA POINTS

Dr. T.KANNAN RAJARAM

Dr. T.MOHANARAJ

2007

4.

VARMA MEDICINE (SPECIAL)

DR. T.KANNAN RAJARAM

Dr. T.MOHANARAJ

2007

5.

VARMA MEDICINE (GENERAL)

Dr. T.KANNAN RAJARAM

Dr. T.MOHANARAJ

2008

6.

FORMULARY OF VARMA MEDICINE

Dr. T.KANNAN RAJARAM

Dr. T.MOHANARAJ

2008

7.

VARMA ODIVU MURIVU MARUTHUVAM (THOGUTHI-1 ELUMBU MURIVUGAL)

Dr. T.KANNAN RAJARAM

Dr. T.MOHANARAJ

2008

8.

VARMA ODIVU MURIVUMARUTHUVAM (THOGUTHI-2 NARMBU MURIVUGAL

Dr. T.KANNAN RAJARAM

Dr. T.MOHANARAJ

2008

9.

A TEXTBOOK OF VARMAM

Dr. T.KANNAN RAJARAM

Dr. T.MOHANARAJ

2011

10.

VARMAM 108

Dr. T.KANNAN RAJARAM

Dr. T.MOHANARAJ

2012

11.

VARMA MARUTHUVA THOUDAKKA PAIIRCHI KAIYADU

Dr. T.KANNAN RAJARAM

Dr. T.MOHANARAJ

TAMIL/ ENGLISH

12.

VARMA NOOLALAVU SOOTHITAM

Dr. T.KANNAN RAJARAM

Dr. T.MOHANARAJ

UNDER PROCESSIG FOR PRINTING

13.

VARMA ODIVU MURIVU SARI SOOTHIRAM-1500

Dr. T.MOHANARAJ

2009

14.

VARMA ODIVU MURIVU SARA SOOTHIRAM -1200

Dr. T.MOHANARAJ

2009

15.

VARMA SARA SOOTHIRA THIRAVUCOAL -36

Dr. T.MOHANARAJ

2009

16.

SHATHURAMANI SOOTHIRAM -600

Dr. T.MOHANARAJ

MOOLCHAL RAJENDRAN

2009

17.

URPATHI NARAMPARAI

Dr. T.MOHANARAJ

2010

18.

LADA SOOTHIRAM -300

Dr. T.MOHANARAJ

2010

19.

ADIVARMA SOOTCHAM

Dr. T.MOHANARAJ

2010

20.

VARMA LADA SOOTHIRAM

Dr. T.MOHANARAJ

2010

21.

VARMA SOOTHIRAM -200

Dr. T.MOHANARAJ

2010

22.

VARMA BEERANKY -100

1, Dr. T.MOHANARAJ

2, JEBAKANI PAKIYANATHAN NADAR

3, M. SELVA RAJ

4, Dr.W.NISHIWILSON

2010

1938

1998

2003

23.

PADUVARMA VIBARA THATHUVA KATTALAI

Dr. T.MOHANARAJ

2010

24.

NALU MATHIRAI (URAI) -180

Dr. T.MOHANARAJ

2010

25.

VARMAANI SOOTHIRAM -100

Dr. T.MOHANARAJ

2010

26.

ODIVU MURIVU KATTUMURAI SARI -110

Dr. T.MOHANARAJ

2010

27.

ODIVU MURIVU KATTU SOOTHIRAM -60

Dr. T.MOHANARAJ

2010

28.

VARMA SOOTHIRAM -50

1, Dr. T.MOHANARAJ

2, JEBAKANI PAKIYANATHAN NADAR

3, M. SELVA RAJ

4, Dr.W.NISHIWILSON

2010

1938

1998

2003

29.

VARMA BEERANKEY THIRAVUCOAL -16

1, Dr. T.MOHANARAJ

2, JEBAKANI PAKIYANATHAN NADAR

3, M. SELVA RAJ

4, Dr.W.NISHIWILSAN

2010

1938

1998

2003

30.

VARMA SOODAMANI

1, Dr. T.MOHANARAJ

2, Dr.W.NISHIWILSON

2013

2004

31.

VARMA KANNADI -500

1, Dr. T.MOHANARAJ

2, Dr.A.MARIYA JOSEPH

2013

2000

32.

VARMA KALAI KANNADI SOOTHIRAM-200

Dr. T.MOHANARAJ

2013

33.

VRAMA KALAI KANNADI SOOTHIRA THIRAVUCOAL

Dr. T.MOHANARAJ

2013

34.

VARMA NOOLYANI - 200

Dr. T.MOHANARAJ

UNDER PROCESSIG FOR PRINTING

35.

VARMA SOOTCHATHI SOOTCHAM -100

Dr. T.MOHANARAJ

UNDER PROCESSIG FOR PRINTING

36.

VARMA KANDI -60

1, Dr. T.MOHANARAJ

2, JEBAKANI PAKIYANATHA

NADAR

UNDER PROCESSIG FOR PRINTING

1938

37.

VARMA ALAVU NOOL -50

Dr. T.MOHANARAJ

UNDER PROCESSIG FOR PRINTING

38.

VARMA MUTTHIRAI -200

Dr. T.MOHANARAJ

UNDER PROCESSIG FOR PRINTING

39.

THATTU VARMA NITHANAM -32

Dr. T.MOHANARAJ

UNDER PROCESSIG FOR PRINTING

40.

UL SOOTHIRAM -32

Dr. T.MOHANARAJ

UNDER PROCESSIG FOR PRINTING

41.

VARMA KAIMURAI -36

Dr. T.MOHANARAJ

UNDER PROCESSIG FOR PRINTING

42.

VARMA THEERPPU -32

Dr. T.MOHANARAJ

UNDER PROCESSIG FOR PRINTING

43.

VARMA KAVIYAM -28

Dr. T.MOHANARAJ

UNDER PROCESSIG FOR PRINTING

44.

VARMAANI -16

Dr. T.MOHANARAJ

UNDER PROCESSIG FOR PRINTING

45.

VARMA BEERANKY -100 IN

THIRAVUKOAL -16

Dr. T.MOHANARAJ

UNDER PROCESSIG FOR PRINTING

46.

VARMAPONNOOSI THIRAVUCOAL

Dr. T.MOHANARAJ

UNDER PROCESSIG FOR PRINTING

47.

THOUDDUVARMA THIRAVUCOAL

Dr. T.MOHANARAJ

UNDER PROCESSIG FOR PRINTING

48.

UL SOOTHIRAM -16

Dr. T.MOHANARAJ

UNDER PROCESSIN FOR PRINTING

49.

VARMA PORI NADI THIRAVUCOAL

Dr. T.MOHANARAJ

UNDER PROCESSIG FOR PRINTING

50.

VARMA ANGATHI PATHAM

Dr. T.MOHANARAJ

UNDER PROCESSIG FOR PRINTING

51.

VARMA KURUNADI

Dr. T.MOHANARAJ

UNDER PROCESSING FOR PRINTING

52.

VARMA KURUNADI THIRAVUKOAL

Dr. T.MOHANARAJ

UNDER PROCESSING FOR PRINTING

53.

VARMA SARI

Dr. T.MOHANARAJ

UNDER PROCESSING FOR PRINTING

54.

VARMA VILLUM VESAIUM SOOTHIRAM

1, Dr. T.MOHANARAJ

2, JEBAKANI PAKIYANATHAN NADAR

UNDER PROCESSING FOR PRINTING

1938

55.

VARMA OLI -1000

Dr. T.MOHANARAJ

UNDER PROCESSING FOR PRINTING

56.

VARMA NITHANAM -500

Dr. T.MOHANARAJ

UNDER PROCESSING FOR PRINTING

57.

VARMA GANA ODIVU MURIVU SARA SOOTHIRAM -2200

Dr. T.MOHANARAJ

UNDER PROCESSING FOR PRINTING

58.

VARMA KANDAM -1500

Dr. T.MOHANARAJ

UNDER PROCESSING FOR PRINTING

59.

VARMA SOOTCHAM -1500

Dr. T.MOHANARAJ

UNDER PROCESSING FOR PRINTING

60.

ODIVU MURIVU SARI NIGADUAGARATHI -1200

Dr. T.MOHANARAJ

UNDER PROCESSING

FOR PRINTING

61.

VARMA NITHANAM -500

Dr. T.MOHANARAJ

UNDER PROCESSING FOR PRINTING

62.

VARMA AVATHI NITHANAM -500

Dr. T.MOHANARAJ

UNDER PROCESSING FOR PRINTING

63.

VARMA MARUNTHU SOOTHIRAM -500

Dr. T.MOHANARAJ

UNDER PROCESSING FOR PRINTING

64.

VARMA SOODAMANI

Dr. T.MOHANARAJ

UNDER PROCESSING FOR PRINTING

65.

AGATHIYAR KURUNADI -500

Dr. T.MOHANARAJ

UNDER PROCESSING FOR PRINTING

66.

PANCHA SOOTHIRAM -500

Dr. T.MOHANARAJ

2013

67.

VARMA THOONDA MANI -416

-----

NOT AVAILABLE WITH ME

68.

NALLU(MANI) MATHIRAI -400 (URAI)

Dr. T.MOHANARAJ

UNDER PROCESSING FOR PRINTING

69.

VAGADA NITHANAM -350

Dr. T.MOHANARAJ

UNDER PROCESSING FOR PRINTING

70.

VARMA SARA SANKIRAGA MURIVUSARI -350

Dr. T.MOHANARAJ

UNDER PROCESSING FOR PRINTING

71.

VARMA ODIVU MURIVU GANAM -300

1, Dr. T.MOHANARAJ

2, JEBAKANI PAKIYANATHAN NADAR

UNDER PROCESSING FOR PRINTING

1938

72.

VILVISAI KAIVALLIYAM -300

Dr. T.MOHANARAJ

UNDER PROCESSING FOR PRINTING

73.

VARMA ATCHARA KURAL -300

---

NOT AVAILABLE WITH ME

74.

URPANA SARI -205

Dr. T.MOHANARAJ

UNDER

PROCESSING FOR PRINTING

75.

VARMA THIRAVUCOAL

Dr. T.MOHANARAJ

UNDER PROCESSING FOR PRTINTG

76.

NARAMPU PINAL SOOTHIRAM -213

Dr. T.MOHANARAJ

UNDER PROCESSING FOR PRINTING

77.

VARMA SOOTHIRAM -205

Dr. T.MOHANARAJ

UNDER PROCESSING FOR PRINTING

78.

CHEKILSHAI MURIVU SARI -205 (URAI)

Dr. T.MOHANARAJ

UNDER PROCESSING FOR PRINTING

79.

VARMA SARI -205

Dr. T.MOHANARAJ

UNDER PROCESSING FOR PRINTING

80.

NARMPU SOOTHIRAM -150

Dr. T.MOHANARAJ

UNDER PROCESSING

FOR PRINTING

81.

VARMA KURU NOOL -130

Dr. T.MOHANARAJ

UNDER PROCESSING FOR PRINTING

82.

VARMA NITHANAM -125

Dr. T.MOHANARAJ

UNDER PROCESSIN FOR PRINTING

83.

NALLU MATHIRAI -120 (URAI)

Dr. T.MOHANARAJ

UNDER PROCESSING FOR PRINTING

84.

VARMA THATTUVA SOODAMANI -100

1, Dr. T.MOHANARAJ

2, P. RAMASAMY ASSAN

UNDER PROCESSING FOR PRINTING

1999

85.

SOKKUMA SINTHAMANI -120

Dr. T.MOHANARAJ

UNDER PROCESSING FOR PRINTING

86.

THOUDDU VARMA NITHANAM

Dr. T.MOHANARAJ

UNDER PROCESSING FOR PRINTING

87.

PATHATHI KESA VARMA AANI

Dr. T.MOHANARAJ

UNDER PROCESSING FOR PRINTING

88.

VARMA KANDI SASTHIRAM -108

Dr. T.MOHANARAJ

UNDER PROCESSING FOR PRINTING

89.

VARMA NARMBARAI -108

Dr. T.MOHANARAJ

UNDER PROCESSING FOR PRINTING

90.

VARMA NOOL -100

Dr. T.MOHANARAJ

UNDER PROCESSING FOR PRINTING

91.

VARMA VILLANGA ALAVU KORVAI -100 ( VARMA THACHU SASTHIRAM)

Dr. T.MOHANARAJ

UNDER PROCESSING FOR PRINTING

92.

VARMA AMARTHAL MURAI

1, Dr. T.MOHANARAJ

2, P. RAMASAMY ASSAN

UNDER PROCESSING FOR PRINTING

1999

93.

NARAMPU SOOTHIRAM -100

Dr. T.MOHANARAJ

UNDER PROCESSING FOR PRINTING

94.

VAITHIYA SATHAGAM -100

Dr. T.MOHANARAJ

UNDER PROCESSING FOR PRINTING

95.

VARMA MUDA MURIVU SARI -100

Dr. T.MOHANARAJ

UNDER PROCESSING FOR PRINTING

96.

MURIVU NITHANAM -100

Dr. T.MOHANARAJ

UNDER PROCESSING FOR PRINTING

97.

VARMA KUNDOOUSHI -100

Dr. T.MOHANARAJ

UNDER PROCESSING FOR PRINTING

98.

VARMA VITHI -67

Dr. T.MOHANARAJ

UNDER PROCESSING FOR PRINTING

99.

AGATHIYAR SUVADU MURAI -64

Dr. T.MOHANARAJ

UNDER PROCESSING FOR PRINTING

100.

LADA SOOTHIRAM -64

Dr. T.MOHANARAJ

UNDER PROCESSING FOR PRINTING

101.

ADANGAL MATHIRAI THIRAVUCOAL -51

Dr. T.MOHANARAJ

UNDER PROCESSING FOR PRINTING

102.

VARMA SOOTCHA KAIPAGA KAI VALLIYA NOOL -50

Dr. T.MOHANARAJ

UNDER PROCESSING FOR PRINTING

103.

VARMA NOOLALAVU SOOTHIRAM -50

Dr. T.MOHANARAJ

UNDER PROCESSING FOR PRINTING

104.

VARMA KANDI -60

1, Dr. T.MOHANARAJ

2, JEBAKANI PAKIYANATHAN NADAR

UNDER PROCESSING FOR PRINTING

1938

105.

ODIVU MURIVU KATTU SOOTHIRAM -60

Dr. T.MOHANARAJ

UNDER PROCESSING FOR PRINTING

106.

VARMA SASTHIRAM -60

Dr. T.MOHANARAJ

UNDER PROCESSING FOR PRINTING

107.

MURIVU KATTU THIRAVUCOAL -50

Dr. T.MOHANARAJ

UNDER PROCESSING FOR PRINTING

108.

VARMA VILLUM VISAIUM -50

Dr. T.MOHANARAJ

UNDER PROCESSING FOR PRINTING

109.

NALLU MATHIRAI THIRAVUCOAL -50 (URAI)

Dr. T.MOHANARAJ

UNDER PROCESSING FOR PRINTING

110.

VARMA KAI MURAI SOTTCHAM -36

Dr. T.MOHANARAJ

UNDER PROCESSING FOR PRINTING

111.

VARMA KAIVALLIYAM -36

Dr. T.MOHANARAJ

UNDER PROCESSING FOR PRINTING

112.

NARAMPU SOOTHIRAM -35

Dr. T.MOHANARAJ

UNDER PROCESSING FOR PRINTING

113.

VARMA KURUNAADI -35

Dr. T.MOHANARAJ

UNDER PROCESSING FOR PRINTING

114.

VARMA KURUNAADI THIRAVUCOAL -32

Dr. T.MOHANARAJ

UNDER PROCESSING FOR PRINTING

115.

VARMA URPANA SARI -32

Dr. T.MOHANARAJ

UNDER PROCESSING FOR PRINTING

116.

VARMA ALAVU NOOL -30 (URAI)

1, Dr. T.MOHANARAJ

2, JEBAKANI PAKIYANATHAN NADAR

UNDER PROCESSING FOR PRINTING

1938

117.

VARMA KAVIYAM -28

Dr. T.MOHANARAJ

UNDER PROCESSING FOR PRINTING

118.

VARMA SOODI

Dr. T.MOHANARAJ

UNDER PROCESSING FOR PRINTING

119.

POGAR VARMA SOOTHIRAM -25

Dr. T.MOHANARAJ

UNDER PROCESSING FOR PRINTING

120.

ULLURA ADANGAL ADAKKAM -24

Dr. T.MOHANARAJ

UNDER PROCESSING FOR PRINTING

121.

PANCHA SOOTHIRA THIRAVUCOAL -20

Dr. T.MOHANARAJ

UNDER PROCESSING FOR PRINTING

122.

NARAMPARAI -400